Paris's JOYLINER presents
Landlocked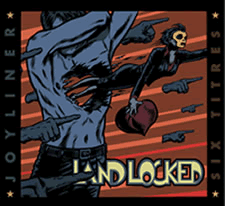 Joyliner is not really the band you'd expect from France. Its guitar-bass-drums line-up and sweet-and-sour English lyrics don't share much resemblance with, say, Gainsbourg or Noir Désir. Initially influenced by the Posies, Sugar, Soft Boys, Guided by Voices, Grifters and less famous but much revered Blake Babies – singer and composer Richard spent a couple of years in the US and didn't miss many of Juliana Hatfield gigs in the DC area – they soon ended up growing their own blend. If their bodies are French, their songs come out in English: when Richard stops making sense, it's never in French.
So here's Joyliner, part-time rock band roaming around Paris for the last decade. They've auto-produced and recorded 4 e.p. under the able and demanding guidance of Peter Deimel at Black Box – they take slightly out-of-place pride in sharing this with Albini : Shellac recorded part of "at action park" over there some time ago… In other words: Joyliner is analogical and keeps going back to these vintage guitar amps and old German microphones.
Their care for sound is matched by the choice of French indie cartoonist Mezzo, who takes pleasure in turning their "off" lyrics into equally weird covers.
Their 2005 e.p. Landlocked, by far their best, displays a range of rock styles, from big rock anthem (sunset clause) to pop (the closing balance) via voodoo pseudo-blues (landlocked). Voilà!
JOYLINER : Jokes Only You couLd Immediately uNdERstand ?
Well, even if you don't, they'd be happy to hear what you thought of their music: le.joyliner@orange.fr